Pacific Rim Conservation biologists have written or been involved in the development and writing of numerous natural resource management plans and exercises for prioritizing conservation/fencing actions and selecting among alternatives. We use this experience to help partners determine conservation goals and priorities, develop long-term management plans, and implement short-term work plans.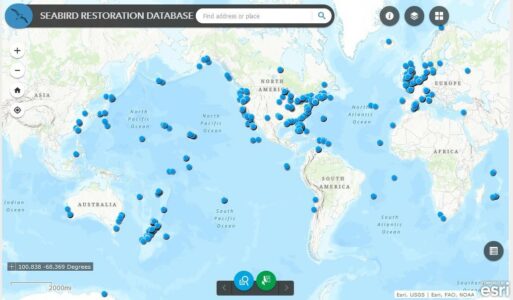 Global Seabird Restoration Database-The seabird restoration database is a unique global product presenting practitioners with real world examples of the methods and outcomes of active seabird restoration efforts from around the world. The database was developed in collaboration with seabird experts from six organizations (PRC, Project Puffin (National Audubon Society), the Nature Conservancy, the New Zealand Department of Conservation, Museum of New Zealand Te Papa Tongarewa, and Northern Illinois University) and populated using a rigorous systematic review process that aimed to document every recorded restoration activity targeting seabirds using social attraction or translocation methods. After reviewing over 1300 documents and reaching out to over 600 experts to gather data, the Seabird Restoration Database now contains over 850 examples of past, current, and future active seabird restoration efforts worldwide. To learn more and view the data, please visit seabirddatabase.org. If you have data you would like to contribute to this project, please contact Dr. Dena Spatz at seabirddatabase at gmail dot com.
US Tropical Pacific Seabird Monitoring Assessment-
We partnered with the USFWS migratory birds office in 2017 to conduct a gap analysis of seabird monitoring in the US Tropical Pacific. Two reports were produced from this project: 1)
A Summary and gap report of seabird monitoring in the US Tropical Pacific
, and 2) a
seabird monitoring manual
that includes specific methods and recommendations for various sites and monitoring scenarios. Partners: US Fish and Wildlife Service (USFWS), National Park Service, American Samoa Department of Marine and Wildlife Resources.
Habitat suitability assessments for listed seabirds.
Using habitat suitability models generated by the USFWS, we worked with various biologists across the state to determine whether birds were present on sites identified (using acoustic monitors and auditory surveys) and the worked to prioritize sites suitable for habitat to protect listed Newell's Shearwaters and Hawaiian Petrels. Partners: US Fish and Wildlife Service (USFWS), Hawaii Division of Forestry and Wildlife, Maui Nui Seabird Recovery Project, National Park Service, Molokai Land Trust and American Bird Conservancy.
Fence site prioritization and plans
. We have done fence site prioritizations and management plans across the state for both predator-proof and ungulate proof fences for a variety of partners. These plans typically identify and map potential fence unit locations, prioritizes areas to be fenced, provides cost estimates for fence construction and maintenance, identifies of compliance requirements, and provides management recommendations. Read more:
Report #87
and
62.
Conservation Action Plan for Hawaiian Birds
: the purpose of this plan was to draw attention to the plight of Hawaiian birds, increase awareness of their conservation needs, and ultimately, increase the amount of funding available for their conservation. Each profile provides a brief summary of a particular species (or group of species), its status, the threats it faces, and conservation actions that are needed and can be implemented in the next five years. You may download the complete report or species profiles individually
here
. Partners: USFWS Migratory Birds Division.
'Alalā (Hawaiian Crow) release plan. PRC was contracted by to write a restoration plan for the 'Alalā or Hawaiian Crow. Since 2002, the 'Alalā had been extinct in the wild but over 100 birds existed in captivity. In 2017, 11 'Alalā were released into the wild, followed by an additional 10 birds in 2018. The plan provided comprehensive methods to guide habitat restoration and management, releases of 'Alalā back into the wild, and post-release monitoring and management, with the goal of restoring a self-sustaining wild population. Partners: the Hawai'i Division of Forestry and Wildlife, USFWS and San Diego Zoo Global.
Climate Change Addendum for the USFWS Pacific Regional Seabird Conservation Plan
. This
peer-reviewed update
provided a synthesis of available information on existing and potential effects of climate change on seabirds and seabird habitats in the Pacific Region. Partners: USFWS, University of Hawaii Pacific Cooperative Studies Unit, Farallon Institute and Oregon State University.