Pacific Rim Conservation undertakes a variety of biological surveys and monitoring for a wide range of partners throughout Hawaii and the Pacific region. We use scientifically recognized methods to measure presence, abundance, and status of bird, bat, plant, and pest populations. Techniques include transects, point counts, and other distance-based methods, mist-netting and banding, mark-recapture analysis, spot-mapping, nest searching and monitoring, geolocation, and GIS. When possible, results from biological surveys are submitted for publication in peer-reviewed scientific journals.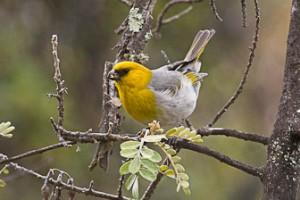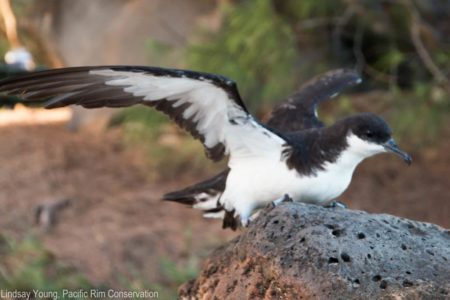 Newell's Shearwater and Hawaiian Petrel surveys on Oahu
Since 2016, we have deployed more than 15 automated acoustic recording units (song meters) annually island-wide in locations where modelling predicted the habitat would be suitable. To date, we have 6,924 recording hours and have detected Newell's Shearwaters regularly at four sites; 2 on the leeward slopes of Mount Kaala, and two in the Koolau Range at Poamoho and Opaeula. We also detected Hawaiian Petrels at 2 sites on Mount Kaala. Evidence suggests that, at a minimum, both species are regularly prospecting on Oahu, and could potentially be breeding on the island. The published results of of the  surveys can be downloaded
here
.
White Tern Census on Oahu
In 2016, we conducted an island-wide census of the White Terns breeding on O`ahu to follow up on the original census done in
2003
. The goals of this project are to better understand Tern biology, and also to document occurrence of the birds so that tree trimmers city wide can work to avoid nests. We have been working with the state for the last year to develop this both to provide education opportunities and to help arborists ensure they are in compliance with the law. To view an interactive nest map in google earth and to record nest sightings in this citizen science program, go to
www.whiteterns.org
. The published results of of the 2016 survey can be downloaded
here
.
Lehua Islet Seabird Monitoring
For several years we have worked with partners at Island Conservation and the Kaua`i Endangered Seabird Recovery Project to monitor seabird species abundance and reproductive success prior to removing rodents from
Lehua Island
(pictured above), a small island 20 miles west of Kaua`i. By determining the approximate number of birds and their reproductive success before and after rat removal, we will be able to quantify the impact that rats were having on the ecosystem.
Ka`ena Point Seabird and Ecosystem Monitoring
For more than eight years, we have worked with the David and Lucile Packard Foundation and the Hawai`i Division of Forestry and Wildlife to monitor seabird abundance and
reproductive success
at Ka`ena Point after the removal of invasive predators in 2011. We have also been experimenting with social and acoustic attraction to increase seabird numbers and diversity within the reserve by attempting to attract Black-footed Albatrosses to the reserve; results can be downloaded
here
. Results of annual surveys for both Laysan Albatrosses and Wedge-tailed Shearwaters can be found in our annual reports.
Albatross Foster Parent Program
Since 2008, we have worked with the U.S. Navy and landowners on Kaua`i to help find foster parents for Laysan Albatross eggs that would otherwise be destroyed. Approximately 80 albatross pairs attempt to breed each year at the Pacific Missile Range Facility (PMRF) on Kaua`i, but because this creates a collision hazard for military aircraft (flying albatrosses can ground planes), the eggs are removed. The eggs are placed in an incubator, and in mid-December, albatross nests on Kaua`i's North Shore and at Ka`ena Point on O`ahu are visited to determine if their eggs are fertile. If albatrosses at these sites are incubating inviable eggs, they are given a 'foster egg' from PMRF so that those birds still have a chance at survival. During this project, we have also assisted the
Cornell Lab Albatross Cam
project by ensuring the nest that is being filmed has a fertile egg. In 2017, the Cornell albatross cam chick (Kalama) was part of our foster parent program. Results of the foster parent program can be downloaded
here
Oahu Elepaio Surveys and Monitoring
We have conducted several island-wide surveys and long-term monitoring of O`ahu `Elepaio populations to evaluate effects of predator control and mosquito-borne diseases, including estimation of annual survival, nest monitoring, and calculating population growth, in collaboration with the Hawaii Division of Forestry and Wildlife, the U.S. Army, and the Nature Conservancy of Hawai`i.
Report 15
,
Report 22
,
Report 41
Variable Circular Plot Methods