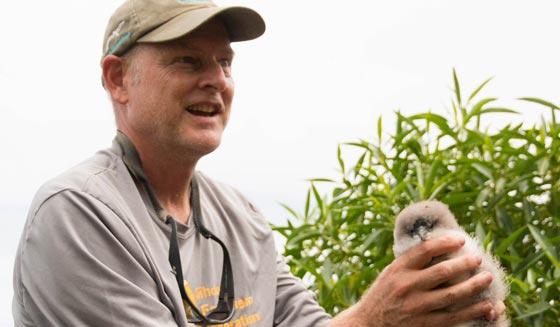 Dr. Eric VanderWerf
Director of Science
Eric VanderWerf earned a Bachelor of Science degree from Cornell University in 1988 and Master of Science degree from the University of Florida in 1992. In 1999, he completed a Ph.D. at the University of Hawai`i, where his research focused on plumage variation and effects of habitat disturbance and diseases on population biology of the Hawaii Elepaio.
He has worked on a variety of conservation and ornithological projects in Hawaii and throughout the Pacific since 1991 during stints with the U.S. Fish and Wildlife Service and the Hawaii Division of Forestry and Wildlife. He has continued and expanded upon that work since founding Pacific Rim Conservation in 2007.
Eric has authored over 100 scientific papers, book chapters, government documents, and technical reports, serves as the leader of the Hawaiian Forest Bird Recovery Team for the U.S. Fish and Wildlife Service, on the Endangered Species Recovery Committee for State of Hawaii, as an associate editor for the Condor, and as an associate editor of the Birds of North America.
Eric was also one of the 2011 recipients of the US Fish and Wildlife Service Endangered Species Recovery Champion Awards for his work on the Nihoa Millerbird Translocation.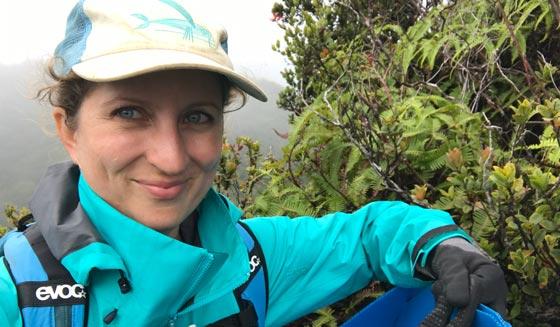 Dr. Lindsay Young
Executive Director
Lindsay Young earned a Bachelor of Science from the University of British Columbia and a Master of Science from the University of Hawai`i. In 2009, she completed her Ph.D. at the University of Hawai`i where her research focused on the population genetics, at sea foraging ecology, and conservation needs of Laysan Albatross.
Lindsay has worked on numerous conservation projects in Hawai`i and the Pacific region since 2003 with a variety of state, federal, and private partners.
Lindsay has authored several dozen scientific papers, served as the treasurer for the Pacific Seabird Group, the chair of the North Pacific Albatross Working Group, is the former North Pacific correspondent for ACAP (Agreement on the Conservation of Albatrosses and Petrels), and as a reviewer for multiple refereed journals. Lindsay was one of the 2011 recipients of the US Fish and Wildlife Service Endangered Species Recovery Champion Awards for her work on the Nihoa Millerbird Translocation, and in 2016 she was awarded a special achievement award from the Pacific Seabird Group for her work with Hawaiian seabirds. She currently serves as an affiliate graduate faculty member at the University of Hawai`i Natural Resources and Environmental Management Department and was a faculty member on the Fall 2018 voyage of Semester at Sea through Colorado State University
Robby Kohley
Director of Aviculture
Robby Kohley earned a Bachelor of Science degree from Walla Walla College in 2000. He has extensive experience in avian ecology and aviculture in particular. Robby was the Research Coordinator and Facility Manager for the San Diego Zoo's Hawai'i Endangered Bird Conservation Program at the Keauhou Bird Conservation Center from 2007-2009, and also has worked for State of Hawai`i on the Maui and Kaua`i Forest Bird Recovery Projects, for the American Bird Conservancy on translocation of the Millerbird from Nihoa to Laysan, for the Institute for Wildlife Studies, and for the Alaska Maritime National Wildlife Refuge as a seabird monitoring crew leader on Buldir Island. He joined Pacific Rim Conservation in 2015 to oversee all aspects of PRC's aviculture and captive rearing program. 
Dr. Dena Spatz
Senior Conservation Scientist
Dena earned her bachelor's degrees in Environmental Studies and Anthropology in 2006 and her PhD in Ecology and Evolutionary Biology in 2016 from UC Santa Cruz. Her dissertation examined the biogeography of globally threatened birds, mammals, reptiles and amphibians from islands and their conservation opportunities. As a Conservation Biologist at Island Conservation, Dena managed conservation databases and disseminated results to inform invasive species management decisions, monitored ecosystem recovery before and after invasive species removal, and wrote scientific and popular media articles about biodiversity benefits through invasive species management. Dena's other relevant field experiences and interests include teaching, guiding naturalist cruises on Monterey Bay, conducting field studies on seabird foraging ecology and ecotoxicology, and monitoring and evaluating seagrass ecosystem services in the Philippines and Mexico.
Erika Dittmar
Biologist
Erika Dittmar earned a Bachelor of Science degree from Ferris State University in 2008 and a Master of Science degree from University of Illinois in 2012. She has extensive experience in avian ecology with a focus on endangered species management. Erika has worked on various projects across the US assisting with management of endangered songbirds, woodpeckers, hawks, sea lions, salmon, trout, turtles, butterflies, and grasshoppers. She also has extensive experience with restoration of numerous native plant species and research focused on migratory bird habitat conservation. She joined Pacific Rim Conservation in 2018. Erika assists with several projects, but her primary responsibilities are monitoring O`ahu 'Elepaio, Laysan Albatross, and surveying for Hawaiian Petrel and Newell's Shearwater.
Leilani Fowlke
Animal Care Coordinator
Leilani earned her Bachelors of Science degree in Marine Biology from Brigham Young University – Hawai`i in 2016. With a focus in animal care and rehabilitation, Leilani has worked at the Monterey Bay Aquarium with their Sea Otter Research and Conservation team, at the Alaska SeaLife Center assisting in researching and rehabilitating marine mammals and as a Research Assistant with One Ocean Diving studying shark communication and behavior.  In her free time Leilani runs Kaikoa Conservation, a non-profit research and conservation organization but you will also find her freediving, SCUBA diving, running or designing art for various conservation organizations. 
Dr. Adrien Pesque
Wildlife Veterinarian
Adrien Pesqué earned bachelor's degrees in evolutionary biology and psychology at the University of Arizona. In 2016, he earned his Doctor of Veterinary Medicine degree with a zoological focus at the University of California, Davis. After graduation, he completed an avian internship at The Raptor Center at the University of Minnesota. Dr. Pesqué has worked on Oahu in emergency and general practice for dogs, cats, and exotic animals since 2018. On his time off, he enjoys surfing, snorkeling, hiking, and traveling.
Dr. Suzanne Pluskat
Wildlife Veterinarian
Suzanne Pluskat graduated with a biology degree from Long Beach State University in 2002. She went on to attend UC Davis for veterinary medicine from 2007-2011. While in veterinary school she worked with the Companion Avian and Pet Exotics department working with turkey vultures, wildlife and birds of prey. She worked at the International Bird Rescue from 2004- 2010 and volunteered during numerous oil spills caring for oiled birds. She is excited to come back to wildlife care after working as small animal veterinarian for the past few years. Suzanne enjoys birdwatching and hanging out with her 3 house rabbits. Suzanne is based on Midway Atoll where she is charged with overseeing avian care associated with the Midway Seabird Protection Project.
Daniela Casillas
Avian care specialist
Daniela earned her Bachelors of Science degree in Natural Resources and Environmental Management from the University of Hawaiʻi at Mānoa  in 2019 where her research focused on the effects of social attraction on translocated Black-footed Albatross chicks. Daniela worked with NOAA as an Ocean Count Intern where she led groups in humpback whale surveys, and was a past intern at PRC.
Molly Monahan
Avian Care Specialist
Molly is from New Hampshire and graduated from the University of Oregon in 2018 with BS in Marine Biology. Her interest in seabirds began at the Oregon Institute of Marine Biology while studying and working as a teaching assistant for "Marine Birds and Mammals" class. In 2019 Molly started with Pacific Rim Conservation as a seabird restoration intern, and joined our team as an avian care specialist in 2020.

2020 Intern Cohort
Carly Kano
Elaine Freeth
Emily Reichard
Glenn Meador
Kelsey Greiff
Liliana Tobar
Madison O'Brien
Malia McDonald
Sarah Hibbs
Sean Paulin